Current News - March 2015
The Competitive Advantage of Thinking Green
Several studies show that being green, having a small carbon footprint, is not only beneficial to the environment, but it also provides various economic benefits with a minimal monetary investment. Ecologically conscious tourism can give hotels and tour operators a competitive advantage, increase employee retention and increase customer loyalty. Read the full story >


SAVE THE DATE - Caribbean Hospitality Industry Exchange Forum (CHIEF) Oct. 2-4 in Puerto Rico
CHTA has scheduled the Caribbean Hospitality Industry Exchange Forum (CHIEF) for Oct. 2-4, 2015 at El Conquistador Resort, A Waldorf Astoria Resort, in Fajardo, Puerto Rico. CHIEF will provide an opportunity for hoteliers, Hotel Association Executives and an impressive array of hospitality product and service providers, as well as industry experts, to network, brainstorm and learn how to be a successful part of the future in the Caribbean tourism industry. For more info, email CHTA events.


Food & Beverage Professionals Can Enhance Skills & Culinary Concepts At Taste Of The Caribbean
CHTA is hosting the annual Taste of the Caribbean culinary competition at the Hyatt Regency in Miami from June 12-14, 2015. Culinary professionals will have the opportunity to enhance their knowledge of the food and beverage industry through educational seminars and networking with food-related companies at the tradeshow. Hotel association executives and team managers can register their team via CHTA events.


U.S. Virgin Islands Hotel & Tourism Association To Hold AGM With CHTA CEO Frank Comito As Guest Speaker
The U.S. Virgin Islands Hotel & Tourism Association is holding its Annual General Membership Meeting on March 20, 2015 at 8:30 a.m. at The Ritz-Carlton, St. Thomas. The agenda includes elections of the 2015 Board of Directors and CHTA's new CEO Frank Comito will make a presentation about "Caribbean Indicators and CHTA Update." To confirm attendance, a response is required by calling 340-774-6835 or sending an email to nicole@virgin-islands-hotels.com


Puerto Rico Hotel & Tourism Association Schedules Saborea Puerto Rico, April 9-12, 2015
World-famous Escambrón Beach takes center stage in a flavorful weekend, with tastings from 30 restaurants per day of the island's finest restaurants, plus rums, wine, beer, distilled spirits, and 50 international and local culinary personalities! Saborea Puerto Rico: A Culinary Extravaganza takes place April 9-12, 2015 and features new events. For more info and to register, click here.


Pure Talk – Pure Walk
Since launching the 'Pure Grenada - Spice of the Caribbean' brand in public private partnership with the Government of Grenada, the Grenada Hotel & Tourism Association continues to promote sustainability in the sector. Read the full story >


Blue Flags Fly over USVI
In the U.S. Virgin Islands, we recognize the important relationship between our natural resources and the local economy. We are not only committed to maintaining the beauty of our islands, but also the health. By joining the international Blue Flag program, the USVI is able to promote awareness and provide educational tools for local businesses. Several hotels and marinas have accepted the Blue Flag Challenge and are doing their part to take care of the environment and foster sustainable coastal management practices.
Read the full story >


CTO: 2014 Was A Record Year For Caribbean Tourism
Added airlift capacity and economic improvements in Canada, the United States and Europe contributed to a "record year" for visitor arrivals to the Caribbean in 2014, the Caribbean Tourism Organization announced. In delivering his annual "State of the Industry" report on Feb. 13, CTO Secretary General Hugh Riley presented what he said was a "clear demonstration" of the global demand for Caribbean vacations. Statistics indicate that over 26.3 million visitors came to the region in 2014 — nearly 1.3 million more than 2013, which was also a record year, he said. Those visitors spent more too: Over $29.2 billion was spent in 2014 - nearly a billion more than the previous year, he said. For the full article, click here (Source: BVI Beacon).


First Hotel in St. Maarten to be awarded the
"Green Key Certificate"
Article written by Jorge Diaz-Granados, Princess Heights Luxury Boutique Hotel. During an intimate ceremony held at the pool premises of the property on February 2nd, Princess Heights Luxury Boutique Hotel officially became the first hotel in St. Maarten awarded with the "Green Key Certificate" by the International Foundation for Environmental Education (FEE). After years of committed work from the hotel's management and staff regarding eco-friendly practices along with the guidance of Mr. Finn Bolden, Green Key Programme Director, Princess Heights accomplished this certification granted by an entity that has awarded over 2200 establishments in more than 40 countries worldwide, whose main goal is to raise awareness of leisure properties, increase sustainability in operations and run environmentally responsible businesses while reducing energy and resources. The Environmental Protection in the Caribbean Foundation (EPIC), represented by Mr. Reuben Thompson, also played and important role during the process of certification, by auditing and monitoring the progress of compliance with the Green Key criteria.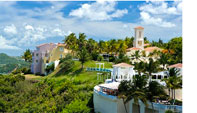 Commitment to the Local Environment Also Enhances Experience for Travelers
Article Written by Dermot Connolly, El Conquistador Resort & Las Casitas Village, Waldorf Astoria Resorts.Sustainability does not need to put one's hotel in the red. There can be a significant utility cost savings from implementing a series of energy and water efficiency initiatives, and can be as simple as replacing existing lights with LED's or upgrading to water-efficient shower heads. Read the full story >



Effective Water Management
Article written by Mitch Kleppe, Horizon.Only 1% of the planet's fresh water is available for use. As changing climate patterns in the Caribbean continue to be an issue, we are called to better manage the existing supply of water. Fortunately innovations in irrigation products allow you to practice environmental responsibility while still having lush, beautiful landscapes. Pressure regulating sprays and nozzles conserve water by managing flow through irrigation systems and applying water more efficiently, reducing water usage by up to 30%. Read the full story >


Lights Off, Earth On
For one hour on March 28, 2015, 8:30 - 9:30 p.m. local time, participate in your own Earth Hour event by turning off the lights and help fight climate change. Hotels, businesses, governments, and individuals from 162 countries and territories participate in the event which celebrates Earth in an effort impact climate change. For information and event ideas for hosting your own Earth Hour event, click here.


Hon. Minister Wilchcombe Calls For Greater Participation In Tourism By The Caribbean, And As One
Minister of Tourism the Hon. Obie Wilchcombe called for Caribbean nations to get more involved in the tourism trade, and said it's time for Caribbean nations to look at the region as one – working together they could achieve more. He said for 50 years tourism has been the main engine driver of the Bahamian economy with 60% of employment opportunities directly related to it. The World Travel and Tourism Organization states, he said, that tourism is the number one industry in the world and some 1.3 billion people travel each year. Further, Wilchcombe said if the Caribbean nations would come together as a region they could do much more in terms of attracting visitors to the various destinations. For the full story, click here (Source: Bahamas Weekly).


CHTAEF Scholarship Applications Due March 30
The deadline to apply for CHTA Education Foundation scholarships is days away with a March 30, 2015 deadline. Please communicate to all qualified Caribbean hospitality employees, educators and students who are taking tourism related courses to apply as soon as possible. CHTAEF offers scholarships for first-time applicants as well as returning recipients. Scholarships are awarded based on prior academic achievements, previous work or internships in the Caribbean hospitality industry and economic needs. An endorsement letter from the local National Hotel Association must be included. New applicants can use this application to see the full criteria while returning applicants can re-apply with this form. Click here for more information.


Sustainable Checklist for Hotel Renovations
Article written by OBM International. Looking to freshen up your hotel? Considering redevelopment or add-ons to your current tourism product? That is a great time to consider re-developing sustainably. Read the full story >


Guestfolio
Guestfolio prides itself on working intimately with every client. We provide an integrated suite of Guest Relationship Management (GRM) tools including; personalized pre-arrival emails, guest surveys, newsletters and a dynamic Mobile Concierge. Our tools consolidate guest data and allow Hotel and Resort operators to automatically engage guests at key touch-points before, during and after their stay. Guestfolio is a cost effective way to improve the guest experience, while ultimately increasing revenues. All of this supported by industry leading conversion reporting on all email marketing activity.