Current News - November 2015
Gifts That Keep on Giving
How Off-Peak Season Holiday Promotions Can Boost Your Revenues
Off-peak season is upon us. The endless days of summer are behind us but fortunately, holiday cheer is right around the corner. Travel around the holidays is quite popular, especially for those that live in colder climates and cannot enjoy our Caribbean summer all year round.
Read the full story >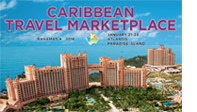 The Caribbean's Most Important Marketing Event is Breaking Into New Markets


Caribbean Travel Marketplace, the region's largest and most important marketing event, scheduled Jan. 21-23, 2016 at the Atlantis, Paradise Island in The Bahamas is growing and reaching broader markets than ever before.

CHTA has heard your requests for greater engagement and is expanding its outreach to include new tour operators, in niche and emerging markets. Marketplace will also offer revenue boosting educational sessions designed to offer hoteliers yield management strategies, supplemental revenue options and techniques to increase bookings. The sessions will begin on Thursday Jan. 21st, prior to the official opening ceremony. Appointment requests are now open. For complete event details and to register, click here.



Get Ready for a New Course of Taste of The Caribbean!

In 2016, Taste of the Caribbean, the Caribbean's premier culinary competition and cultural showcase, will bring much more than culinary excellence to the table. Educational opportunities for food and beverage professionals will take center stage. As demonstrated with the success of the Caribbean Hospitality Industry Exchange Forum (CHIEF), our industry needs more professional development tools to continue offering the very best in tourism and hospitality. This year's event will take place at the beginning of the month of June, between June 6th - 12th. Full details and specific dates are coming soon. Taste of the Caribbean will be returning to Miami for its fifth consecutive year and will take place at the Hyatt Regency.
Jetblue CEO: Airline Inclined to Serve Caribbean Destinations With Lower Taxes
Robin Hayes, President & CEO of JetBlue Airways stunned the audience at the State of the Industry Conference (SOTIC) with a message to which few had paid much attention before. Hayes stated: "At JetBlue, we are very much thinking about the relative tax burden on our customers as we allocate capacity."

CHTA President Emil Lee noted: "While there is no Federal Government of the Caribbean, CHTA will do its part to inform Caribbean governments of their relative position concerning their taxes on tickets by publishing the chart below which shows the range of these taxes for a sample set of Caribbean destinations. We now know why there is no correlation between ticket prices and distances flown to and within the Caribbean." Click here to read the CHTA press release.




Anguilla Hotel and Tourism Association Hosts Tourism Week & Gala Nov. 28 - Dec. 4
The Anguilla Hotel and Tourism Association (AHTA) will be hosting their Annual Tourism Week festivities Nov. 28 to Dec. 4, 2015. Highlights of the week include the Valley Street Festival, Taste of the Islands, Church Service, school and industry-wide awareness and educational activities. The week culminates in the AHTA Grand Gala and Awards banquet on Dec. 4. For more info, call AHTA 264-497-2944.
The World is on Display at the New York Times Travel Show. Will You Be There?
Don't miss the opportunity to showcase at The New York Times Travel Show (Jan. 8-10, 2016 at the Jacob Javits Center in New York), the largest and longest-running trade and consumer travel show in North America, while making a difference in the lives of Caribbean students. Your generous donation places your property in front of over 28,000 avid and frequent travelers interested in traveling to the Caribbean.
Your donation will also allow us to continue providing scholarships to Caribbean students pursuing careers in the hospitality industry. All proceeds generated from our auction goes towards scholarships. Please complete the donation form which can be downloaded here and email it to foundation@caribbeanhotelandtourism.com. Thank you for supporting CHTAEF!



Caribbean Tourist Arrivals Outpacing Other Major Regions
The Caribbean Tourism Organization is forecasting a five to six percent growth in tourist arrivals for the region in 2015.

The news comes as the region outpaces all other major regions globally, with record numbers for the first six months of 2015. Click here for the story (Source: Curacao Chronicle).



Avoid These 7 Phrases For Hotelier Success
These days, we are surrounded by bad manners everywhere. And in a hotel, bad manners by your employees often translate into poor guest experiences and disappointing performance by your property. If you think more carefully about the language of hospitality, guests will think more of you and your properties. For the full story, click here (Source: HotelNewsNow.com).



A Very Strong Month for the Caribbean Hotel Sector
Caribbean hotels posted strong growth in September, according to the latest report from hotel analytics firm STR.

The region's hotel occupancy was 54.4 percent last month, a '6.4 percentage point year on year improvement over the same month in 2014. In the same period, the region's average daily rate rose 3.7 percent to $154.57, with revenue per available room rising 10.3 percent to $84.07.

For the year, Caribbean hotel occupancy is up 2.9 percent compared to the first nine months of 2014. Click here for the story (Source: Caribbean Journal).



Water Sports - A Great Draw for Holiday Vacationers
The winter holidays are the high season for travel and occupancy in the Florida Keys. It is the first opportunity people have to escape the bitter cold of mainland America. Tourists enjoy nothing more than leaving behind the cold grey drab of the blustery frozen north to the warm and vibrant welcome of tropical air complemented by clear blue skies aqua-emerald waters with flowering plants and trees in full bloom like vivid fireworks signaling their arrival. Read the full story >




Business of Tourism: Rural tourism, A New Opportunity?
David Jessop, Caribbean Council
The idea of rural is becoming a new category in the Caribbean visitor offering, although it is less clear how well it is being thought through, or the extent to which, in some minds, it is equated to another new category, agro-tourism. Agro-tourism refers to travel that combines rural settings with the products of agriculture within a single paid for tourism experience. The idea is that this has as a goal creating revenues for farmers and the surrounding communities.

According to regional experts such as those at the Caribbean Regional Sustainable Tourism Development Programme (IICA) the main components of rural visitor experiences include open spaces, low levels of urban or industrial development, and the opportunity for the visitor to directly experience agricultural, pastoral, and natural environments, as well as crafts, culinary products and local culture. The idea reflects a desire to strengthen the link between agriculture and tourism, increasing the value chain for both of the industries, and has been on the region's political and economic development agenda for a considerable time. For more, click here (Source: Caribbean Council).




Jetblue CEO: Our Growth is Tied to the Caribbean
JetBlue's growth as an airline will rely heavily on its continued expansion in the Caribbean region, said Robin Hayes, president and chief executive office of JetBlue Airways this week at the Caribbean Tourism Organization (CTO)'s State of the Industry conference in Curacao. JetBlue will enter "several" new Caribbean markets and will also expand its service to existing regional destinations.

"On our most popular routes we're going to lay on additional frequencies or deploy our larger A321 aircraft," he said. Additional capacity has already been added in Montego Bay and Punta Cana, said Hayes. JetBlue will also expand service between Curacao and New York with a third weekly flight next year. The airline has also emerged as a leading carrier in Haiti, one of the Caribbean's top emerging leisure destinations. "Earlier this week we announced plans to bring the 321 to Port-au-Prince and to increase flights from Boston, New York and Fort Lauderdale in response to growing demand for travel to Haiti, [which] includes a growing element of tourist traffic," said Hayes. "In total, we will increase our service to Haiti by more than 50,000 seats, an increase of 80 percent since JetBlue entered the market two years ago." For more, click here (Source: Travel Pulse).



Thomas Cook Airlines to Launch Manchester - Tobago Route in Winter 2016
Thomas Cook Airlines will launch a direct Manchester to Tobago route in winter 2016, flying around 20 rotations from November to March, bringing an additional 12,880 seats to the destination. For more, click here (Source: Travel Weekly UK).




Major Increase in Flights to Martinique
Martinique is readying for a significant boost in air traffic with a 193 percent increase in available nonstop seats for the 2016-16 peak travel season. European carrier Norwegian will launch new nonstop flights beginning Dec. 3 from New York, Baltimore/Washington and Boston. American Airlines will increase service out of Miami to six weekly flights starting Dec. 17. Click here for more information (Source: Caribbean Journal).



Southwest Airlines Offering New Service to Jamaica
Visitors from Houston now have easier access to Jamaica as of Nov. 1 Southwest Airlines began operating daily nonstop service between Houston's Hobby International Airport and Jamaica's Sangster International Airport in Montego Bay. Click here for the full story (Source: South Florida Caribbean News).




Online Sargassum Forum
Following 2015-2016 SPAW Protocol Work plan and its recommendations, the SPAW Secretariat at UNEP-CEP and the SPAW Regional Activity Center (SPAW-RAC) began working on the Sargassum issue early 2015 by identifying regional initiatives on the subject in order to enhance regional cooperation and to encourage a common thought on the subject, through collaborations and group discussions. Read the full story >



Ground-breaking Study Allows Hotels to Ensure Impacts at Destinations
The Travel Foundation, with Pwc has published a report that demonstrates how hotels can work to ensure a net positive impact in tourism destinations as well as helping them to include social, cultural, environmental and economic impacts in decision-making for destinations in which they are seeking to develop. Click here for the full story (Source: Green Key).



Regional Renewable Energy Centre Launched in Barbados
The Caribbean Centre for Renewable Energy and Energy Efficiency (CCREEE) was inaugurated in Barbados to act as the coordinating regional hub and think tank for sustainable energy issues and activities. Chairman of the Caribbean Community (CARICOM), Barbados' Prime Minister Freundel Stuart, said the center would also promote a low carbon economy, reduce dependence on imported fuels and increase their resilience to climate change. Click here for the full story (Source: Green Key Newsletter).



Lonely Planet Releases New Travel Magazine
Lonely Planet – the world's leading travel media company and #1 guidebook publisher – is introducing the first issue of Lonely Planet, a new quarterly travel magazine in the U.S. The Winter 2015/2016 issue hits newsstands November 3rd. The launch of Lonely Planet magazine marks the global multimedia brand's biggest magazine launch in its 40-plus year history, with a guaranteed circulation rate base of 450,000. With the addition of the U.S. magazine, Lonely Planet now publishes magazines in 12 countries around the world.
The first issue highlights the top places named in Lonely Planet's Best in Travel 2016, the highly-anticipated annual collection of the most significant travel trends, destinations and experiences in the year ahead. Additional features include '5 spots to talk about right now,' 'Need to know: traveling to Cuba,' '10 new ways to fall in love with Rome,' and 'What to eat in Nashville.' For advertising inquiries, please contact Director of Advertising Sales, José Barreiro: jose.barreiro@lonelyplanet.com

Say "I Do" to More Revenues With The Right Destination Wedding Packages
Written by AskMe, Inc.
Destination weddings are a multi-billion dollar industry. Though many hoteliers say "I Do" to going after this niche, many are missing the boat by not offering the right packages and not marketing their hotel strategically. "There is a lot of competition in the destination wedding market," said Hilary Lanzer of AskMeWeddings.com, a Miami-based company that develops and markets wedding programs for resorts and hotels, "Hotels that succeed know what to offer couples, how to reach them and how to exceeded their expectations. " Read the full story >
News/Current Events
News
Previous News
Press Information
Monthly Newsletter
Photo Gallery
Press Release Archive
- 2015 -
- 2014 -