Current News - February 2015
Destination Weddings: The Revenue Booster
February is here, Valentine's Day is just around the corner and love is in the air. On this Valentine's Day weekend, according to American Express Spending and Savings Tracker, approximately six million people are expecting a marriage proposal. One out of six of these new brides will opt for a destination wedding. It is clear that romance abroad is alive and well. Read the full story >


CHTA Introduces New Executive Team
At Caribbean Travel Marketplace, Emil Lee, president of CHTA, introduced a new executive team saying: "Our new Chief Executive Officer (CEO) is no stranger to the Caribbean or Hospitality association management. We've created a new position of Chief Marketing Officer and our new CMO is also no stranger to the Caribbean, having worked in media sales in the region for most of his adult life. And, finally, we have taken this opportunity to promote one of our own to the new position of Chief Operating Officer (COO). It is my pleasure to announce the new executive team to boldly lead the CHTA in the future - Frank Comito, who will serve as the Chief Executive Officer, Matt Cooper, Chief Marketing Officer, and Vanessa Ledesma-Berrios, Chief Operating Officer.


Caribbean Travel Marketplace Attracts 14 New Buyer Companies; 11,888 Pre-Scheduled Appointments
Caribbean Travel Marketplace was again a very successful event drawing 301 buyer delegates from 102 companies representing 17 countries that are driving business to the region including Argentina, Bahamas, Barbados, Brazil, Canada, Dominican Republic, Germany, Ireland, Italy, Japan, Mexico, Poland, Russia, Spain, Trinidad & Tobago, United Kingdom and United States. Out of the 102 companies, there were 14 new buyer companies participating for the first time seven from the USA, two from both Canada and Poland and one each from Brazil, Japan and UK. There were 272 supplier companies from 29 countries and 1,084 total delegates in attendance. Buyers and supplier companies pre-scheduled 11,888 appointments with each other in advance while additional appointments were made onsite.

The new dates for Caribbean Travel Marketplace 2016, which will be taking place Atlantis, Paradise Island Bahamas, are January 21 – 23, 2016. The official schedule will be as follows:
January 18 – 19 Leadership Conference
January 20 – 21 CHTA Committee and Board meeting
January 21 – 23 Caribbean Travel Marketplace


Thank You To All Of The Caribbean Travel Marketplace Sponsors
We would like to extend a gracious thank you to the host country, the Puerto Rico Destination Team - comprised of the Puerto Rico Hotel & Tourism Association (PRHTA), the Puerto Rico Tourism Company (PRTC) and Meet Puerto Rico, on this year's event. We also thank our host sponsors and Strategic Partners Cable & Wireless, Interval International, MasterCard and TravelZoo.

Additionally, we are thankful for all of the individual companies who provided sponsorship for this year's event including platinum sponsors AMResorts, April Travel Protection,Bonnier Corp. (Islands & Destinations Weddings & Honeymoons), Best Western International, OBMI, STR, Starwood Caribbean, Tambourine, TDC Trinidad and Tobago and Trip Advisor; gold sponsors Adara, AskMe, Condé Nast Traveler, Figment Designs, IATAN, JackRabbit, JetBlue, Russell Reps., The Knot, The New York Times, SimpleView, Time, Inc. Affluent Media Group, TravelChannel, TravelClick, Wedding Wire and World Travel Market, and HotelTonight as Charging Station Sponsor.


CHTA Signs MOU With Foundation For Environmental Education
CHTA has signed a Memorandum of Understanding (MOU) with the Foundation for Environmental Education (FEE) recognising FEE's Green Key and Blue Flag programs in the Caribbean as well as CHTA's sustainability initiatives.

The Memorandum of Understanding between CHTA and FEE has been entered to recognize the hospitality and tourism sustainability initiatives in the Caribbean brought forward by FEE through the Green Key and Blue Flag programs and by CHTA through the Caribbean Alliance for Sustainable Tourism (CAST) and programs such as the Caribbean Hotel Energy Efficiency Action (CHENACT) initiative. For additional details, click here (Source: Press Release).


CSHAE Hosts Annual Leadership Conference Sponsored By ARDA ROC
The Caribbean Society of Hotel Association Executives (CSHAE) held its Annual General Meeting (AGM) and Leadership Conference, sponsored by American Resort Development Association - Resort Owners' Coalition (ARDA-ROC) prior to the opening of Caribbean Travel Marketplace. Association executives from 14 hotel associations participated in the AGM and Leadership training including professionals from Anguilla, Antigua & Barbuda, Aruba, Bahamas, Barbados, Bermuda, Bonaire, British Virgin Islands, Curacao, Puerto Rico, St. Lucia, St. Maarten, Trinidad, Turks & Caicos. The Leadership Conference ASAE training, sponsored by ARDA-ROC, CSHAE and CHTA, featured ASAE professional development sessions by Adriana Serna, ASAE Facilitator and CHTA's Communication Manager. For more information, click here (Source: Press Release).


Caribbean Hotel Industry Reports 1.5% Occupancy Increase for 2014
The Caribbean hotel industry reported increases in all three key performance metrics during 2014, according to data from STR, Inc. In year-over-year comparisons, Caribbean hotels during 2014 experienced a 1.5-percent increase in occupancy to 68.0 percent; average daily rate was up 6.4 percent to US$194.66; and revenue per available room rose 8.0 percent to US$132.28. Demand in the Caribbean increased 2.4 percent; revenue jumped 8.9 percent; and supply grew 0.8 percent. For the full article, click here (Source: Hotel News Resource).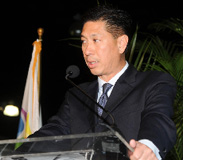 New US-Cuba Relations a Clarion Call for CHTA Members
In an interview with Jamaica Observer, CHTA President Emil Lee, argued that the thaw in ties between US and Cuba is a strong signal to CHTA members to improve their products and marketing efforts. Lee stated: "I think there is a real curiosity factor and pent-up demand for Cuba, so it is my opinion it is a clarion call to the Caribbean not to be complacent. Now is the time that we need to make sure that our products are good, our marketing efforts are good, so that we can draw new business, because I think that at least in the short term there are going to be some curiosity factors that will impact the rest of the Caribbean. If we are not proactive about our promotions and our products it has the potential to have a negative impact on us." Lee pointed out that there are opportunities to be had from the opening up of Cuba, adding that he would welcome that Spanish-speaking Caribbean country's participation in the CHTA. For the full article, click here (Source: Jamaica Observer).


Bahamas Eases Customs Wait Time With Automated Passport Control
An automated passport control (APC) system at Nassau's Lynden Pindling Airport (LPIA) in The Bahamas went live earlier this month, allowing US-bound travelers to be processed up-to four times faster. Officials expect the new technology – available in only one other airport in the Caribbean – to help slash wait times, improving the airport's efficiency and ultimately providing a more enjoyable experience for millions of visitors passing through the US pre-clearance facility at LPIA. The new system does not require travelers to complete a paper US customs declaration form, as all questions are answered on the touch screen which featured instructions to scan their passport, answer the customs declaration questions, have their photo taken and receive a confirmation receipt which they show to a CBP officer to finalize processing. For further details, click here (Source: CaribbeanNewsNow.com).


Mark Your Calendars
The Caribbean Tourism Organization (CTO) features a calendar of 2015 events that you may want to mark down in your datebook. For a full list, click here.



JetBlue To Launch Service To Grenada In June
Pending final government approval, JetBlue Airways will launch service to Grenada on June 11, 2015 with twice-weekly service on Thursday and Sundays between New York's John F. Kennedy International Airport (JFK) and Grenada's Maurice Bishop International Airport (GND) Maurice Bishop International Airport in Grenada via 150-seat Airbus A320 planes. The carrier has been expanding its service in the Caribbean, most recently adding flights to Curacao. Grenada will be JetBlue's 90th destination and its 32nd destination in the Caribbean and Latin America. For the full article, click here (Source: Caribbean Journal).


CHTA Education Foundation Raises Nearly $100,000 At New York Times Travel Show; Receives $63,000 Combined Donations From Interval International, Virgin Holidays
Thank you to all of our members who donated to the silent auction at The New York Times Travel Show as CHTAEF was able to raise nearly US$100,000 for scholarships for Caribbean nationals pursuing higher education related to the tourism industry. At Caribbean Travel Marketplace, long-time supporters Interval International and Virgin Holidays made donations of US$30,000 and $33,000 respectively to CHTAEF. Pictured (l-r) Emil Lee, president of CHTA, Neil Kolton, Interval International's director of resort sales and service for the Caribbean and Florida; and Richard S. Kahn, chairman of CHTAEF.


CHTA Education Foundation Is Now Accepting Applications for 2015 Scholarships
Caribbean hospitality employees, educators and students wishing to pursue studies or professional development courses related to the tourism industry can apply for CHTAEF scholarships. Additionally, past scholarship recipients who are continuing their studies can reapply for a scholarship. Scholarships are awarded based on prior academic achievements, previous work or internships in the Caribbean hospitality industry and economic needs. All scholarship applications must be received by CHTAEF no later than March 30, 2015. An endorsement letter from the local National Hotel Association must be included. New applicants can use this application to see the full criteria while returning applicants can re-apply with this form. Email CHTAEF for additional information or questions.


Welcome New CHTA Education Foundation Trustees
The CHTAEF Board of Trustees is pleased to welcome three new members to the Board - Rachael Nathaniel, Magdalena Grand Beach & Golf Resort in Tobago; Mark Ozawa, Windjammer Landing Villa Beach Resort, St. Lucia; and Omar Robinson, Round Hill Hotel & Villas, Jamaica. We look forward to your contributions to CHTAEF as we work together to enhance the scholarship program for Caribbean students.


Interval International, Divi Resorts Announce Long-Term Business Relationship
CHTA Strategic Partner, Interval International, and Divi Resorts, which has one of the largest portfolios of shared ownership resorts in the Caribbean, have entered into a long-term business relationship. The multi-year, multi-site agreements encompass seven CHTA-member resorts, as well as the new Divi Vacation Club, and future properties that become part of the club. Interval is providing a comprehensive package of customized services, including ongoing club support, reservation services, and points-based exchange. Club members receive the valuable benefits of Interval Platinum®, entitling them to a number of flexible exchange opportunities and upgraded services. Divi Resorts affords owners and guests a taste of authentic Caribbean hospitality at family-friendly properties through deluxe accommodations, personalized service, and a wide range of amenities. Many recreational activities and attractions are available on-site and near each resort. Visitors can enjoy the many beautiful beaches, explore underwater worlds, hike through forested parks, kayak over clear waters, and play golf on lush courses. Read the full story >


New Member Spotlight: April Travel Insurance
APRIL Travel Protection was pleased to debut our newest division—Hotels & Resorts—at this year's CHTA Marketplace. ATP is a part of the APRIL group – a French-based insurance company with 26 years of experience, presence in over 45 countries, and 2 million policy holders worldwide. This new division was started with the goal of providing protection for both transient and group guests, and is added by your guests when they make a reservation via call-in or through the hotel's own booking engine. It has also been formatted to add to a property's Group Booking Agreements. Read the full story >


CHTA Mourns The Loss of Roberto Díaz del Castillo Cintron, President of the Cancun Hotel Association
Mr. Roberto Díaz del Castillo Cintron, President of the Cancun Hotel Association, died Monday, February 2nd, 2015 at the age of 77 due to a cardiac arrest at the airport in Madrid. He was in Spain to attend the International Tourism Fair (FITUR). His loss leaves an irreplaceable void to his family, colleagues, friends and all those who like him have championed the promotion of Mexican tourism. On behalf of CHTA we would like to express our deepest condolences to his family and loved ones.


News/Current Events
News
Previous News
Press Information
Monthly Newsletter
Photo Gallery
Press Release Archive
- 2015 -
- 2014 -